[LOG] How to collect dumps of protected process(#1. Using AhnReport UI)
1. Summary
In the following cases, create a process dump and proceed with the analysis.
Process occurs Crash or Hang during execution.
The CPU occupancy is abnormally enhanced.
2. How to collect dumps
2-1. Click [Download] and execute AhnReport.
2-2. Click on "Tools" in the menu and select "Create Dump File..."
2-3. Select a process to create dump and Click "..." to specify a location to save dump. Click on the "OK" button.
Default location is C:\ProgramData\AhnLab\Dumps.
2-4. When a "The operation completed successfully" message appears, the collection is completed.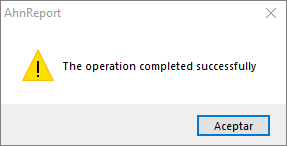 2-5. Check a dump file collected on the location.
The dump file is named <process name>.<pid>.<creation time>.dmp